Kemai's distinctive cultural system, represented by a cultural pyramid indicates that it is guided by its mission, vision and values.It has determined its strategic development goals and constructed six major support systems to consolidate its basic management. Two-way communication results in the same level of desire and coordination of all staff, laying a solid foundation for theirexcellent development.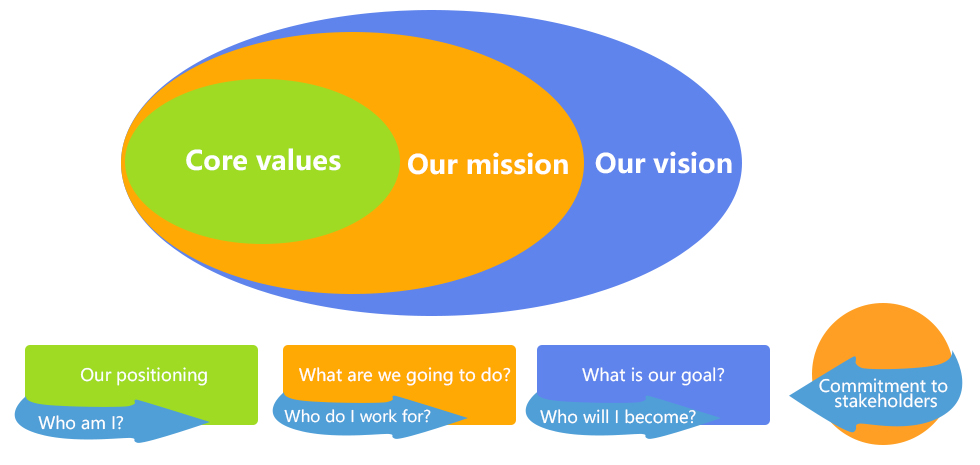 Core values
Provide customers excellent quality
Build a platform for employees to realize their dreams
Increase shareholder value
Make efforts to achieve low-carbon society
Make a common leap with global rubber industry

Interpretation: Choose five major parties as starting points for determining corporate values to guide and constrain employee behavior; create a learning organization to enable all employees to participate in pursuit of excellence and self-realization; provide customers with products and services that exceed customer expectations, through scientific and technological innovation; increase production and efficiency to save energy, reduce consumption and increase shareholders' investment value; fulfill social responsibility through saving energy, reduceemissions and performsafe production; establish a good supply chain relationship and work together with suppliers and customers to boost development of the rubber industry.
Our mission
Make rubber more useful and practical
Interpretation: Kemai iscommitted to the principle "innovation achieves dreams", andhas innovated its technology to tap into the potential of rubber additives to improve rubber performance and ensure its longer life, and promote development of the rubber additive industry.
Our vision
Make Kemai exceptional.Become the most trusted supplier for the global rubber industry.
Interpretation: Pursuit of excellence is Kemai's eternal goal; creating superior products with science and technology leadership, establishing an excellent image forthe Kemai brand, pursuing customer-driven market environment and providing excellent services, make Kemai the first choice for Chinese and internationalcustomers.
Business principle
establish Great Quality concept, determine the quality management principles, guide the entire process of management
Talent principle
employee-oriented, focus on employee's strengths, self-realization
Innovative principle
leading technology, absorb other's advantages, independent innovation
Marketing principle
focusing on customers, strengthen customer relationship management
Quality principle
strong quality, pursue excellence and continuous improvement
Safety and environmental protection principle
fulfill social responsibility, green, environmentally-protective and safe production